State-of-the-art drug manufacturing factory all set to make a difference
Sporting an exterior of white, sunny yellow and ash-grey shades pleasing to the eye, within a rectangular building in the Nanotechnology & Science Park set amidst pastoral scenes in Pitipana, Homagama, the wheels of silvery machines are turning silently – producing stocks of medicines both tablets and in liquid form.
Bound to make a difference, not only in the lives of men, women and children in dollar-strapped Sri Lanka facing numerous medicine shortages but also nationally, it is the state-of-the-art Pharmaceutical Manufacturing & Research Centre of Morison Ltd., a subsidiary of Hemas Holdings PLC. This centre is conveniently positioned adjacent to the Sri Lanka Institute of Nanotechnology (SLINTEC) with which it hopes to have many research collaborations.
Donning sterilised caps, face-masks, gowns and boots with one change of attire in-between and looking like aliens from outer space, we walk along the corridors of the centre peering through glass doors at sophisticated machinery churning out a much-needed infusion of medicines to a country that is in dire need.
It is a first.
"It is the first and largest general 'oral solid dosage' (tablets) manufacturing factory built to international standards and specifications in Sri Lanka," says the Managing Director of Morison Ltd., Dinesh Athapaththu, pointing out that another first is that it is a zero-liquid effluence discharging plant.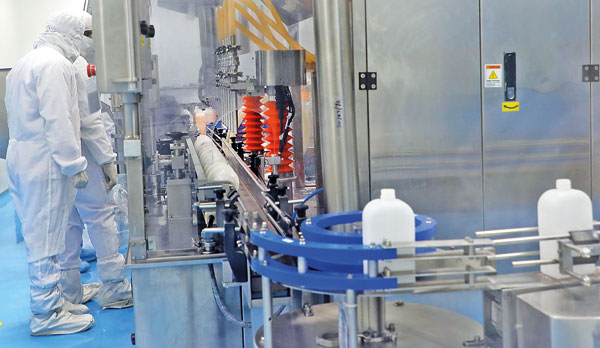 The bottle-filling machine along the liquid-filling production. Pix by M.A. Pushpa Kumara
The plant's full capacity is five billion tablets per year when it begins to run two shifts per day. Currently, only one shift is operating to produce paracetamol 500mg (for fever and mild to moderate pain) and chlorphenamine (used to relieve symptoms of allergies) as an oral solution.
Sri Lanka's US$ 600 million (Rs. 240 billion) national medicines requirement covers both the state and private sectors, with local manufacturers including the State Pharmaceuticals Manufacturing Corporation (SPMC) reportedly meeting around 15% of this value.
Among the local drug manufacturers in the private sector, Morison Ltd., has a comparatively large share, it is learnt.
Unlike India, Pakistan and Bangladesh which have been manufacturing their pharmaceuticals since the 1950s and have now achieved self-sufficiency, Sri Lanka is still heavily dependent on imports.
This Pharmaceutical Manufacturing & Research Centre has been built and equipped at a huge investment of Rs. 4 billion with not only National Medicines Regulatory Authority (NMRA) approvals but in keeping with international standards maintained in European Union (EU) countries. The plant is in the process of securing international accreditation, which would take about two years, it is understood.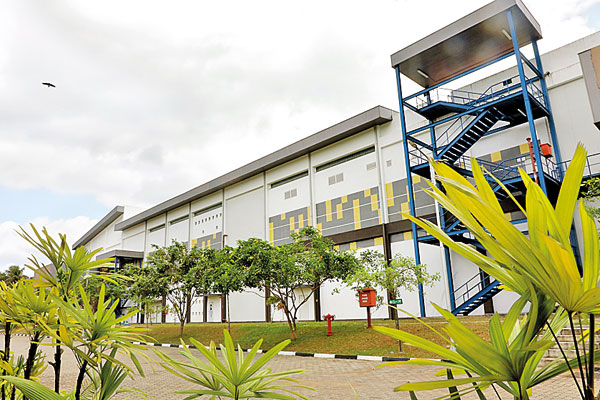 The state-of-the-art white, yellow and ash-grey plant churning out medicinal tablets and liquids for Sri Lanka
"We set about taking our manufacturing to the next level," is Mr. Athapaththu's simple explanation. For, the government's 2015 'buy-back' assurances (for around 80 drugs) for local pharmaceutical companies which were into manufacturing, was working well in 2015. The Morison's Mutuwal factory had also reached full capacity in 2017.
So Morison Ltd., built this new centre with the objective of taking its drug products hopefully to export levels. Teams from Morison had visited India to look at a country which is a thriving drug manufacturer and without cutting corners also hired a top firm to advise it on how to construct the building right from the foundation and equip it with all the latest technology looking towards the EU as a guide.
Mr. Athapaththu says that from the layout to the machinery, from quality management systems to training the local staff to be meticulous about getting it right and maintaining these standards, Morison Ltd., hired a top-level foreign team.
"We had been into medicine manufacturing for a long time but had not got adequate exposure to very high-quality standards including calibration of the machines," he says, reiterating that the staff got a thorough insight and training on operating sophisticated machinery as well as international quality management systems.
Built in 2018, the Pharmaceutical Manufacturing & Research Centre had been opened in 2020 for validation, with commercial manufacturing rolling off the machines in May, this year (2022).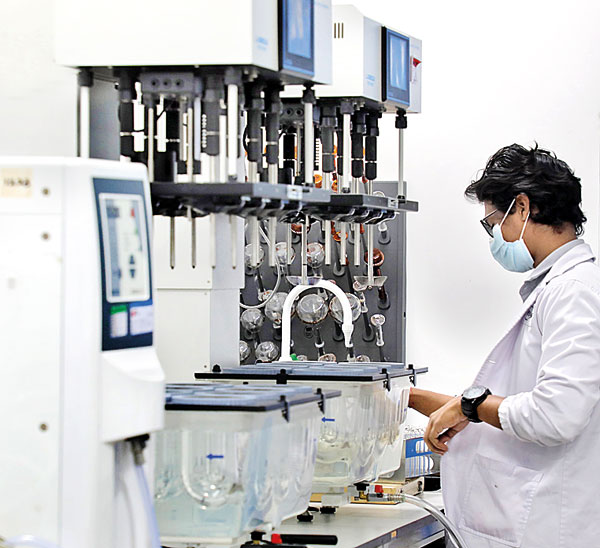 The dissolution apparatus in the quality-control laboratory
The fascinating walkabout of the Sunday Times team through the plant takes place with Mr. Athapaththu; Senior Manager (Strategy & Analytics) Rukshani Perera; Senior Executive (Quality Assurance) Jayani Adikaram; and Executive (Production) Arun Divahar.
The epoxy-flooring of the factory's corridors are blue sans skirting where it joins the walls of modular panels. This flooring prevents microbial growth and also like the walls makes cleaning easy.
Minute details have been considered – from the time the raw material including Active Pharmaceutical Ingredients (APIs) and pharmaceutical excipients (included in medicines to aid the manufacturing process and to protect, support or enhance stability), mainly sourced from India and China, are brought to the plant. They are de-dusted, cleaned and the quality of each and every sample checked and stored for dispensing or discarded if they do not meet the required specifications. The receiving-channel and dispensing-channel for raw material are separate to prevent even the slightest possibility of contamination.
With the plant having different manufacturing suites, there are separate air-handling units for each, with an outward air-flow (from inside to out), so that external pollutants cannot cause issues. This is also to nip a possible product failure in the bud by trapping the air within that particular unit to prevent contamination of other areas.
The process of manufacture differs depending on whether the medicine would finally emerge as a tablet or liquid.
For tablets – the process covers granulation, lubrication/blending and compression, with coating being another step if required. Once manufactured, the packing would be either as bulk or in blister packs.
For liquids – the process is manufacturing, bottle filling and packing.
The team is very proud of the stringent checks carried out at every point – quality checks, checks for chemical parameters and more. Every batch also has specific details for retracing back to the beginning, if the need arises. Not just content with releasing stocks to the market, post-market surveillance is also mandatorily conducted.
With hopes of intensive research and development of 'new' and also 'niche' products, Mr. Athapaththu adds: "We want to make premium healthcare affordable to all Sri Lankans. We are also on a quest to produce a 'unique' Sri Lankan pharmaceutical brand."
By Kumudini Hettiarachchi, Sunday Times 28th Aug 2022