Morison commences production of three high-demand medicines locally
Morison Ltd., a company in pharmaceutical manufacturing in Sri Lanka (formerly known as J.L. Morison's Son & Jones (Ceylon) PLC), commenced the manufacturing of Bisoprolol tablets B.P. 5 mg 250s, Ros-10 (Rosuvastatin tablets I.P. 10 mg 30s blister), and ChlorMor (Chlorphenamine tablets B.P. 4 mg 100s blister) recently.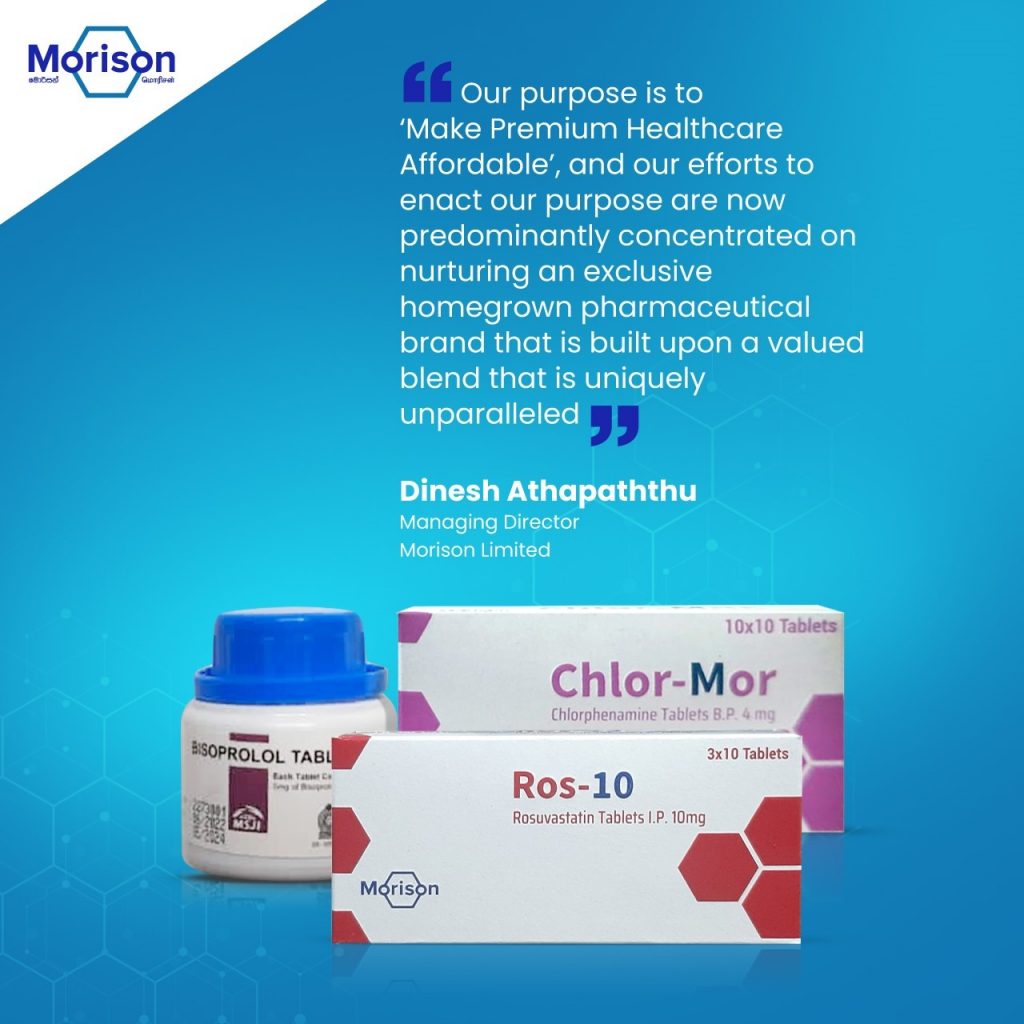 Morison Ltd. Managing Director Dinesh Athapaththu commented on the commencement of production of these pharmaceuticals saying: "This indeed is a key milestone for Morison as well as the pharmaceutical manufacturing industry in the country. Our purpose is to 'Make Premium Healthcare Affordable', and our efforts to enact our purpose are now predominantly concentrated on nurturing an exclusive homegrown pharmaceutical brand that is built upon a valued blend that is uniquely unparalleled.
"Our new branded pharmaceutical range as such offers six unique value propositions (UVPs) which are precisely being 'truly Sri Lankan', offering global quality, at a local Price, introducing novel therapies, through a purely ethical framework whilst being a credible pharmaceutical brand that our people can rely on. This marks a milestone in the local pharmaceutical industry, as these high-demand medicines are now more affordable and accessible to our people, the supply of which does not have to depend on imports."
For the first time in Sri Lanka, Bisoprolol 5 mg tablets are now being manufactured locally by Morison and supplied to the Medical Supplies Division for use in Government hospitals. Used as a treatment for high blood pressure and other cardiovascular conditions, the annual requirement of Bisoprolol in the Government sector is around 40 million tablets, which was being imported to date.
By producing the same locally, Morison is able to make significant forex saving for the national economy during these unprecedented times. Plans are underway to make Bisoprolol B.P. 2.5 mg and 5 mg available in all leading pharmacies as a branded medication in due course, to enable purchasing through a valid prescription.
The second new product launched, Ros-10 (Rosuvastatin tablets I.P. 10 mg 30s blister), is used to treat high blood cholesterol, a risk factor for cardiovascular disease. Morison launched Ros-10 at approximately half of the current weighted average market price, offering significant savings to Sri Lankans.
The third latest addition to the Morison portfolio, ChlorMor (Chlorphenamine tablets B.P. 4 mg 100s blister) is an oral antihistamine that helps to relieve symptoms of allergies. This too was launched at a price less than the prevailing similar products in the market.
Morison commenced operations of their latest state-of-the-art manufacturing and research facility in Homagama in May this year, which is the largest investment to date in the pharmaceutical manufacturing industry in Sri Lanka. This will be a great boost for the pharmaceutical supply of the country during this crucial hour.
Being the first and largest general oral solid dosage (OSD) and oral liquid dosage (OLD) manufacturing facility in compliance with World Health Organisation (WHO) Good Manufacturing Practices (GMP) and EU (European Union) GMP infrastructure and quality management systems in Sri Lanka, the Morison's second manufacturing facility in Homagama, has the inbuilt capacity to produce five billion tablets and two million litres of liquids per annum, which is equivalent to 40% of the national annual general OSD demand in Sri Lanka.
As a subsidiary of the Hemas Group, Morison continues to receive the best technology and knowledge investment in their journey.
Prior to introducing Ros-10, Bisoprolol, and ChlorMor, Morison launched the first-ever locally manufactured SGLT2 molecule (Sodium-glucose cotransporter-2), Empagliflozin tablets 10 mg and 25 mg in 2021. An oral medication to treat type 2 diabetes, this was launched at approximately 50% price advantage from the market. The launch of the three new products is yet another progressive step of Morison towards being a beacon of hope to Sri Lankans by "Making Premium Healthcare Affordable" at this critical juncture. 
The Morning